Skilled Nursing
Post-Acute Care for Residents
Just because you can leave the hospital doesn't mean you are ready to go home. To help bridge the gap between leaving the hospital and being ready to live at home, Choice Health Management Services facilities offer a variety of skilled nursing services.
These post-acute services cover all aspects of your health, from pain management and wound care to nutrition and cardiac care.
Skilled Nursing Services Available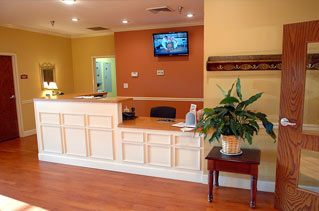 Nursing services across Choice Health Management Services's facilities include the following:
24-hour care from Registered Nurses (RNs)
Pain management
Enteral services
IV therapy
Tracheotomy care
Wound care
Post-stroke care
Bariatric services
Cardiac care
Pulmonary care
Nutrition care
Respite care
Hospice care/Palliative care
Orthopedic after care
Neurologic Injury and Impairment care
Facilities Offering Skilled Nursing Services
Blumenthal Nursing & Rehabilitation
Brian Center Nursing Care/St. Andrews
Lenoir Health Care
Litchford Nursing & Rehabilitation Center
Saturn Nursing & Rehabilitation Center
UHC-Brunswick
UHC-Concord
UHC-Fletcher
UHC-Greenville
UHC-King
UHC-Lillington
UHC-North Raleigh
UHC-Oxford
UHC-Ramseur
UHC-Fuquay Varina
Contact a Choice Health Facility About Skilled Nursing
Whether your stay is short or long term, our goal is to provide our residents with a perfect blend of comfort, security, rehabilitation and care. We encourage you to contact any of the above facilities about the specific services they provide.