Out-Patient Rehabilitation
Physical, Occupational and Speech Therapy in an Out-Patient Setting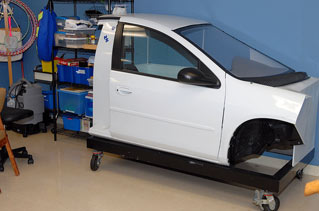 In an out-patient therapy setting, the patient comes to any of our facilities that offer out-patient physical, occupational or speech therapy for treatment and then spends the rest of their time in their own home.
Therapy services are provided by our licensed therapists for the following:
Physical Therapy- our PTs identify and treat physical impairments and work to restore mobility, functionality and quality of life.
Occupational Therapy- using assessment and training, our OTs help residents with physical, mental or cognitive disorders maintain or regain the skills needed for work or daily life.
Speech Therapy- also known as speech-language pathology, this type of therapy focuses on the needs of residents with communication or swallowing disorders
Facilities Offering Out-Patient Rehabilitation Services
Blumenthal Nursing & Rehabilitation
Brian Center Nursing Care/St. Andrews
Lenoir Health Care
Litchford Nursing & Rehabilitation Center
Saturn Nursing & Rehabilitation Center
UHC-Brunswick
UHC-Concord
UHC-Fletcher
UHC-Greenville
UHC-King
UHC-Lillington
UHC-North Raleigh
UHC-Oxford
UHC-Ramseur
UHC-Fuquay Varina
Contact a Facility to Learn More about Out-Patient Rehabilitation
Get in touch with the Choice Health Management Services facility nearest you to learn more about their specific OT, PT or ST services and if they are the right fit for you or a loved one.