Home
The Choice Difference
The Choice Difference
Serving North and South Carolina Since 1999
Started in 1999, Choice Health Management Services is a family owned and operated business with locations in North Carolina and South Carolina. As a short- and long-term care provider, we have grown to 18 facilities offering skilled nursing, assisted living and independent living services.
What is the Choice Health Difference?
Simply put, you and your family become a part of our family. "Care" isn't limited solely to our patient-centered medical and health services. It includes the social and emotional support that makes our facilities great places to visit and live.
The Choice Health Mission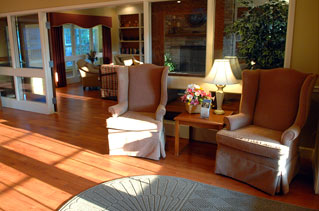 We are a facility of choice. It is our desire to be a choice place to live, work and visit. In order to meet our mission, we strive to:
Have a safe home where residents live an active and satisfying life.
Show Compassion. It is one of our greatest talents and it is a gift that we give to each of our residents.
Give patient-centered care that encompasses all aspects of health and wellness.
Nurture a healthy, respectful and dynamic workplace.
Recognize accomplishments and contributions of ideas while encouraging development of new skills and relationships.
Provide a hospitable, warm and friendly environment to visit.
Uphold the highest business standards so that we continue to be a viable partner in the communities that we serve.
See the "Choice Health Difference" in Action
To learn what we're really about at Choice Health Management Services, you can contact or visit any of our 18 facilities throughout North Carolina and South Carolina.