Assisted Living
Providing Assisted Living Services in North Carolina
As our aging population continues to grow, there is a greater demand for assisted living facilities. At Choice Health Management Services, we offer assisted living services to help those recovering from an illness, hospitalization or issues from aging.
Our assisted living communities are licensed and designed for those age 55 and over who require assistance with their activities of daily living, such as bathing, dressing or preparing meals. The services and amenities at each assisted living location help resident maintain a higher quality of life while providing any medical care they need.
Amenities and Services Provided
There are numerous amenities and services provided at our assisted living facilities. Necessary services include 24-hour on-site licensed Medication Technicians and CNAs, RNs on staff, medication management, ongoing assessments of personal care needs and daily meal services, including snacks.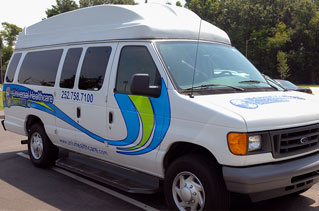 Additional amenities include:
Scheduled transportation services
Weekly housekeeping, linen and laundry service
Utilities, including basic cable
Fitness area on site
Beauty salon on site
Spa room with whirlpool tub
Recreation program
Free Wi-Fi/Computer access
Coffee Shop
Spacious common areas, including parlors and sunrooms
Safety systems: emergency response system in every room and bedroom
Emergency generator, fire alarm system and sprinkler system
Facilities Offering Assisted Living Services
There are five Choice Health facilities that currently offer assisted living services: Blumenthal Nursing & Rehabilitation, Catawba Valley Assisted Living, Litchford Nursing & Rehabilitation Center, UHC/Lillington and UHC/Oxford.
Learn More About Assisted Living
Get in touch with any of the above facilities to learn more about the assisted living facilities they offer.