In-Patient Rehabilitation
Physical, Occupational and Speech Therapy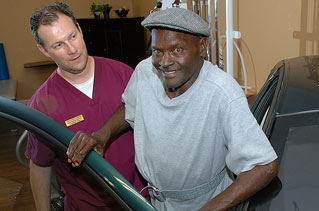 In-patient rehabilitation offers our residents the chance to work with our in-house therapy team, creating a close connection between resident and therapist. Our rehabilitation services focus on returning residents to prior levels of function:
Physical Therapy- our PTs identify and treat physical impairments and work to restore mobility, functionality and quality of life.
Occupational Therapy- using assessment and training, our OTs help residents with physical, mental or cognitive disorders maintain or regain the skills needed for work or daily life.
Speech Therapy- also known as speech-language pathology, this type of therapy focuses on the needs of residents with cognitive impairments, neurologic injuries, swallowing disorders or communication issues.
Facilities Offering In-Patient Rehabilitation Services
Blumenthal Nursing & Rehabilitation- Greensboro, NC
Brian Center Nursing Care/St. Andrews- Columbia, SC
Catawba Valley Assisted Living- Claremont, NC
Lenoir Health Care- Lenoir, NC
Litchford Nursing & Rehabilitation Center- Raleigh, NC
Saturn Nursing & Rehabilitation Center- Charlotte, NC
UHC-Brunswick- Bolivia, NC
UHC-Concord- Concord, NC
UHC-Fletcher- Fletcher, NC
UHC-Greenville- Greenville, NC
UHC-King- King, NC
UHC-Lillington- Lillington, NC
UHC-North Raleigh- Raleigh, NC
UHC-Oxford- Oxford, NC
UHC-Ramseur- Ramseur, NC
UHC-Fuquay Varina- Fuquay Varina, NC
Contact a Facility to Learn More about In-Patient Rehabilitation
Get in touch with the Choice Health Management Services facility nearest you to learn more about their specific OT, PT or ST services and if they are the right fit for you or a loved one.