Memory Care
Services to Assist those with Alzheimer's and Dementia
Alzheimer's and other forms of dementia continue to grow in prevalence across our service area, making health care facilities offering memory care services in high demand. At Choice Health Management Services, our facilities offering memory care services ensure residents have a safe and structured environment to help them live at the highest functional level.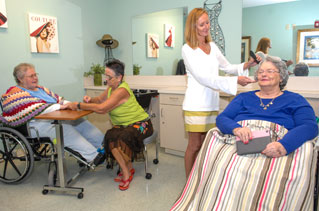 The memory care wings at our facilities utilize a number of services provided by caring, licensed professionals, including:
Hygiene and grooming assistance
Nutritional management
Medication management
Group and one-on-one activities
Multisensory activities
Secured and enclosed patios
Family Support Groups
Facilities Offering Memory Care Services
Choice Health Management Services has two facilities providing memory care services for those with Alzheimer's and dementia:
Learn More about Memory Care
Please feel free to contact the above facilities regarding their specific memory care services.